The Film Festival Disruptor's Lounge (Invite Only) @Goldie presented by The Entrepreneurship Society
70+ Speakers. 1,000+ Disruptors. One weekend of champagne-infused panel discussions on disruption at the #TIFFDisruptorsLounge.
To celebrate the opening weekend of Toronto's International Film Festival, The Entrepreneurship Society, The Blockchain Society and The Cannabis Society along with Michele Romanow hosted an exclusive champagne-infused disruptor's lounge over the course of three days at Goldie cocktail bar on King Street. This unique event format featured back-to-back panel discussions followed by 20 minute champagne breaks. 70+ speakers responsible for creating disruption in a variety of different spaces, including blockchain, cannabis, veganism and more spoke on a variety of panels while attendees enjoyed Padre Azul tequila cocktails, tapas and lively conversation.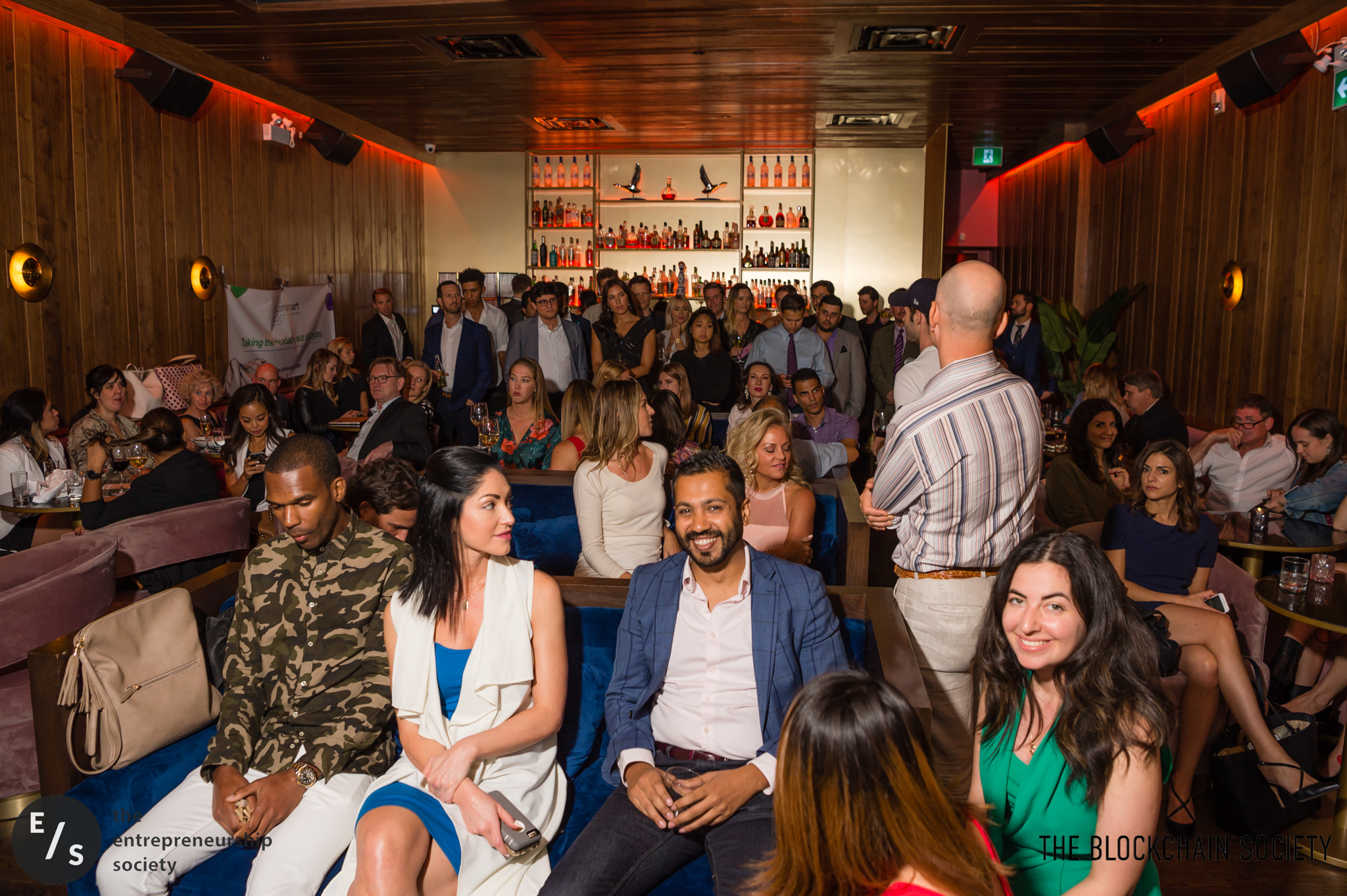 CEO and co-founder of Coinsmart Justin Hartzman moderated an informative panel about marketing in the crypto space with Elena Yunusov, SVP of brand and integrated marketing at Shyft and Richa Vajpeyi, the marketing director at AION.
Co-founder of Clearbanc and co-host of our event Michele Romanow shared some interesting insights on Saturday afternoon about the future of Toronto tech in the year 2020.
Jaime Leverton, General Manager VP at Cogeco Peer 1 spoke on a panel Friday evening about marketing disruption from her history of transforming brand images at companies like IBM and Bell in a disruptive way.
Executive Director of Business Development of FinancialBuzz Crystal Carson moderated a super informative panel Thursday evening with Shyft's SVP of Global Partnerships Suzanne Ennis and Alexia Hefti, crypto lawyer and Deloitte's blockchain tax lead.
Jasmin Ganie-Hobbs spoke on Friday night as well about disruption in the fintech industry that she has observed from her position as Director of Tech Finance at BDC.
The CEO of Grit Capital Genevieve Roch-Decter and the Associate Director of Elevate tech & innovation conference Jennifer Brown discussed the marriage of crypto & cannabis on Thursday evening's panel moderated by Adam Cole.
Marie-Pierre Gonneville spoke on Friday night about her experience creating disruption and the disruption she observed during her six years managing Moet Hennessy's Canadian public relations.
Kim Nguyen, investor relations at WeedMD joined a panel moderated by Nick Pateras from Lift & Co and featuring Jennifer Knox from 48North on Thursday night about the super exciting countdown towards cannabis legalization – her group discussed what changes would take effect on October 17th and how exactly the laws in Canada surrounding cannabis are changing.
Trang Trinh discussed business opportunities post legalization with her panel, speaking from her experience as senior manager of mergers and acquisitions at Deloitte Canada, who have been involved with the cannabis space for the past five years.
World-class executive vegan Chef Doug McNish lead an informative panel Friday night about the future of veganism with vegan influencers Candice Hutchings and Sam Turnbull.
On Saturday afternoon the lounge began it's third day with a media disruption panel featuring Marta Tryshak from Trymus Group, influencer Catie Fenn and Moderated by Oksana Andreiuk, who goes by the handle @CanadianBiohacker.
Closely following was an informative panel addressing disruption on social media, during which Sam Sim from Twitter, Emily Lyons from Femme Fatal Media, Carlie Clough from Sampler, Eleanor Ma from Bonsai and tech influencer Tanya Sardana chatted with their moderator Kathryn Ducey from Hire an Athlete about the importance of building a well curated brand online.
Throughout the course of Toronto's International Film Festival opening weekend, guests mingled at The Entrepreneurship Society's Disruptor's Lounge, enjoying delicious cocktails and chowing down on Goldie's tapas snacks. Disruptor's from a vast range of industries found common ground in their shared interest for pursuing innovation and defying the status quo. Visitors took selfies on the red carpet and mingled under neon lights at one of King Street's sleekest new hotspots during this unique, memorable, high profile event.