BUMO's Global Ambassadors Project Announcement
By: Itai Buenahora
On August 7th, 2018, Spaces at Queen West was host to BUMO's Global Ambassadors Project Announcement, with Canada being it's very first stop to announce worldwide. BUMO invited fellow startups, blockchain developers and community leaders, and anyone with an interest in blockchain technology to find out who they are, what they offer, and how they differentiate themselves among the rest of the industry giants. The Blockchain Society are proud to be involved as community partners.
Guests arrived to a wonderful and inviting modern space, with an assortment of appetizers and finger food, which was a delight for attendees as they mingled and networked.
Kevin Liu, the director at BUMO Foundation, took to the stage to welcome all in attendance, and kick off the grand introduction of BUMO, a commercial grade public blockchain infrastructure for DApp developers and business partners. "We think all of the community can benefit from working with us," Kevin proclaimed, before introducing his company. "We are reliable, we are ready to use, and we are easy to use!"
BUMO was founded in Singapore, in February of this year, with BuBi technology joining as a founding member, providing tech support. By April, they already fundraised tens of millions of dollars, before launching Mainnet in May. In July, their BU token BIBOX/BCEX/Gate launched, with another major announcement just on the horizon.
The BUMO Global Technical Community stretches from Japan, to Silicon Valley, to Israel, and even Sydney. What BUMO can provide, is a public-shared application ecosystem, trusted value transfer systems, and a blockchain-based ubiquitous trust network.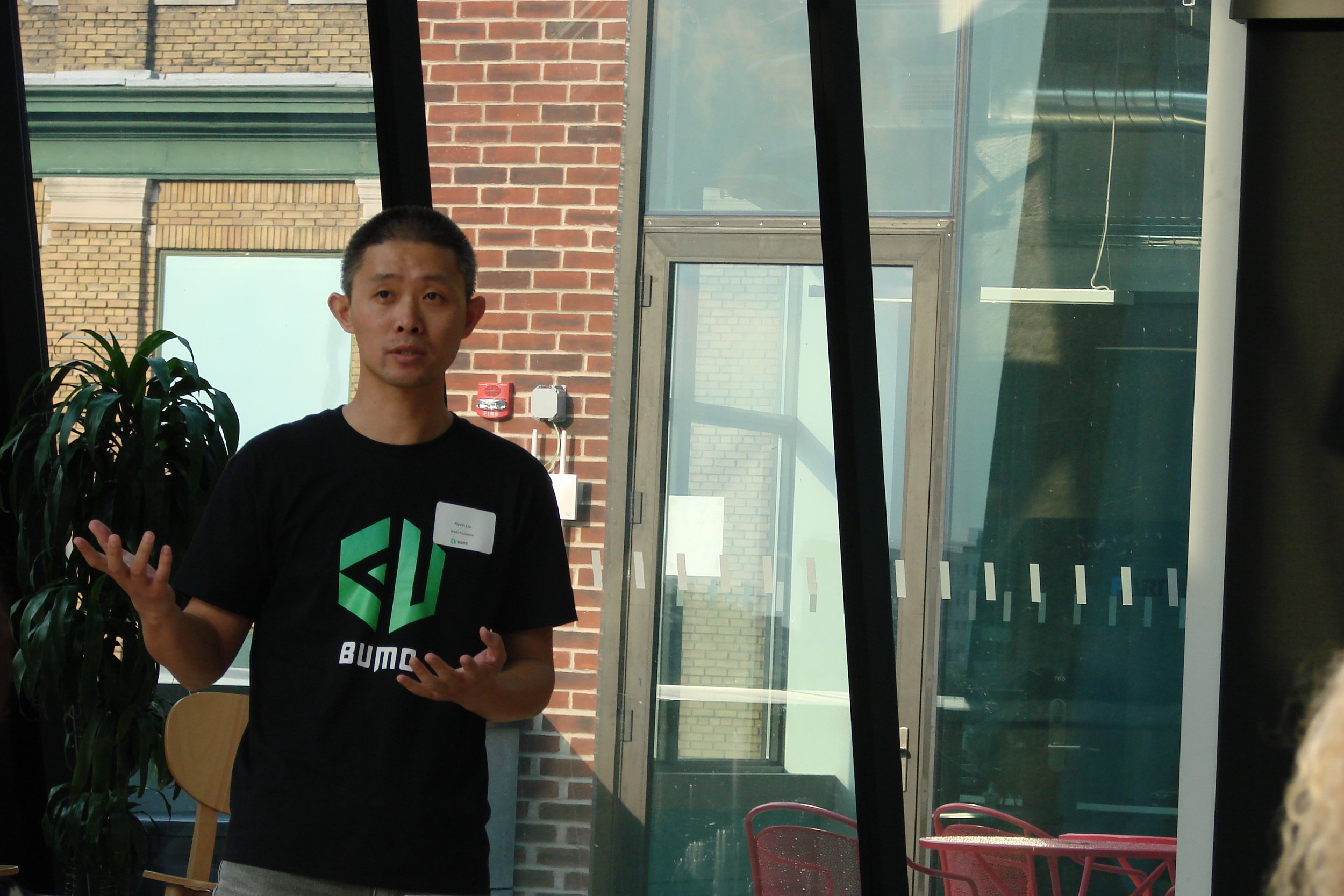 When asked about what sets BUMO apart from its competitors, Kevin said "we're reliable and easy for developers to use. We call ourselves commercial based, as we're ready for business to use. I think we are the only business level public chain in the world. Others are just floating in the air--we are ready." At an event like this, there are a wealth of collaboration and cooperation opportunities, which Kevin certainly hoped to get out of it. "I'm here to build the ecosystem. I need to unite all kinds of powers. The local community, investors, the projects--any members in the community, we just hope to work with them." And there certainly were like-minded individuals who were present and hoping to do the same.
The vision for BUMO is to build the next generation public blockchain. With that being said, the introduction and announcement of their Global Ambassadors project was timely. The objective is to encourage global awareness of BUMO's public blockchain ecosystem, to onboard talent teams, and to grow and support the success of the whole blockchain community. Joining is open to all community members, and to become a BUMO Global Ambassador, you can first self-recommend yourself to be an ambassador, find and support a developer team to do the code review task, and if you've helped the team win a prize, you will be given your Global Ambassador badge and 5K USD-valued BU token as a reward. The benefits include gaining BU tokens as a payment for your endeavors, representing the company to do business with potential clients, holding meetups with the support of BUMO, holding a certain percentage of the ICO (if the projects are assigned by BUMO), and priority in being selected as BUMO Global Super Nodes.
The mission for the project is to promote the public blockchain in local communities, and to maintain an active BUMO developers community. In being a Global Ambassador, you will accept assignments from BUMO to provide development and technical support with potential business leads, get regular training from the company to keep up-to-date, and participate in media interviews as well as branding promotion activities.
Asking Kevin what his hope is for the company by this time next year, he stated "we hope to onboard a large amount of teams to be global ambassadors, and with their help we can maintain an active developers community to support a lot of applications in the chain. For next year, we hope to already have a large team, so we can provide the support for success."
Attendees were then treated to a panel discussion, with representatives from The Blockchain Hub, BlockGeeks, Youbi Capital, and Velocia. When asked about the critical problems in the development of blockchain in Canada and North America, Othalia Doe-Bruce of The Blockchain Hub stressed the importance of educating. "Education is an area we have to keep pushing in, in order to spread the word, but also to extend the industry. The more familiar with blockchain, the more clients we will get."
Ameer Rosic, the co-founder of BlockGeeks, stressed that "we're really good at producing ideas and talents, but that talent doesn't necessarily have the environment to grow in." He stated that the market is very small, and has better opportunities to thrive elsewhere. Greg Boutin, the chief operating officer for Velocia, mentioned that "we need to combine different technologies, otherwise this whole hype cycle will die. There's a bit of an adaptation that's needed, as blockchain is still a technology."
When asked about suggestions or advice on solving these problems, Gregg stated "there are so many platforms--each one is doing something good, but they need to speak better with each other." Herbert Zhang of Youbi Capital recommended "to hang in there, dig down, and learn the technology. Learn by practicing, that's my suggestion. The earlier you invest, you are at an advantage." Ameer suggested to "challenge the status quo", while Othalia recommended "making better relations, and more flexible regulations." Furthermore, she said "Education. I can't say that enough. The more educated, the less of a chance of getting hacked, or scammed."
This year has been regarded as the "year of Public chain", as there are so many public chains coming in and out, and Kevin asked the panel what their suggestions are for developers in the community. Ameer boldly stated, "pick something and start coding; have fun. We need more people to experiment."
I had the opportunity to speak with Herbert Zhang, the chief investment officer of Youbi Capital, which was formed by a group of partners from New York, Shanghai, Silicon Valley, and Toronto. Their early investors are bitcoin miners, with one of their partners currently managing one of the top ten bitcoin mining companies in the world. The company is "pure crypto", using strictly cryptocurrency to invest in the crypto space. They decide how they can add value to your company, and help build it to get listed in the exchange. By doing this, Herbert says they "help to creative positive loops on the ecosystem." Youbi Capital's expertise is to identify the next generation of blockchain technology, with BUMO being a stellar candidate.
In the ongoing pursuit of growing the blockchain ecosystem, Othalia Doe-Bruce emphasizes the importance of education. Being the global ambassador, as well as the community engagement external relationships manager of The Blockchain Hub, she aims to do exactly that. The Blockchain Hub provides education, research, and commercializations of blockchain startups, and are affiliated with York University. They offer a suit of courses for professionals looking to build their skills, as well as organizing events in the goal of educating people on blockchain. "We try to bring the concept home to people. We make it easy!" On what she hoped to obtain from the conference, she stated her ambition "to keep meeting people and educating, and to help the community and BUMO get visibility. I want to help startups to bloom!"
BUMO looks to make significant waves in the blockchain industry, with a reputable team and vision behind them, and an outstanding cast of support in the community that will help them thrive and continue to expand the ever-growing ecosystem.