#NobulHack - Blockchain Hackathon + Learnathon
From June 23rd to June 24th, The Blockchain Society, in sponsorship with Nobul and Microsoft, hosted a blockchain Learnathon & Hackathon that saw some of the industry's brightest minds and engineers come together and collaborate in Toronto.
Recognizing the rapid growth and interest in blockchain technology in the industry, the #nobulHack was a perfect platform to bring everyone up to date with the hottest technology and developments in blockchain, which participants were able to use and apply directly in the Hackathon project.
Kicking off the event, participants engaged in a Learnathon to obtain a firm grasp on the blockchain stack, prior to tackling the competition at hand. It was the hope that this format would allow newcomers to the blockchain space to learn something new, as well as enabling veterans to further hone their skills that they will be working with in the contest.
To participate, developers had to fit a certain criteria of eligibility. Of the requirements, included two years of prior development experience, a valid GitHub account with adequate commit history, and a professional affiliation within the technology community in Toronto, or surrounding cities. Teams were to be comprised of no more than 6 individuals, with the ability to form prior to the event, or at the event with other participants.
The #nobulHack Schedule was the following:
23 June
8.30am - Registration & team formation; breakfast
9am - Opening Remarks from Nobul Corporation
9.30am - Microsoft Workshop
12:10 - Lunch with Sponsors
12.45am - Development Workshop with ChainSafe
1.45pm - Announcements
2pm - KeyNote by Nobul Corporation
2.30pm - Hackathon starts
7pm - Dinner with Sponsors

24June
12am - Hacking Continues
9am - Breakfast served
12pm - Lunch with Judges
2.00pm - Hacking concluded, presentations and judging to begin
3pm - Winners Announced
3.30pm - Final remarks by Nobul
It wouldn't be a competition without a set of rules, of course. All participants were encouraged to abide by these set of rules in order to qualify and partake in the event.
First and foremost, fresh code; everyone starts coding at the same time. Next is Code Review, with the winning team being subjected to a code review following the event, or immediately before winning, to ensure that the coding is fresh.
You must also own your IP and whatever you create. Submissions will have a designated google drive folder, and teams had 10 minutes to demo the functionality of their project and talk about their idea, followed by a minute of Q&A from the judges.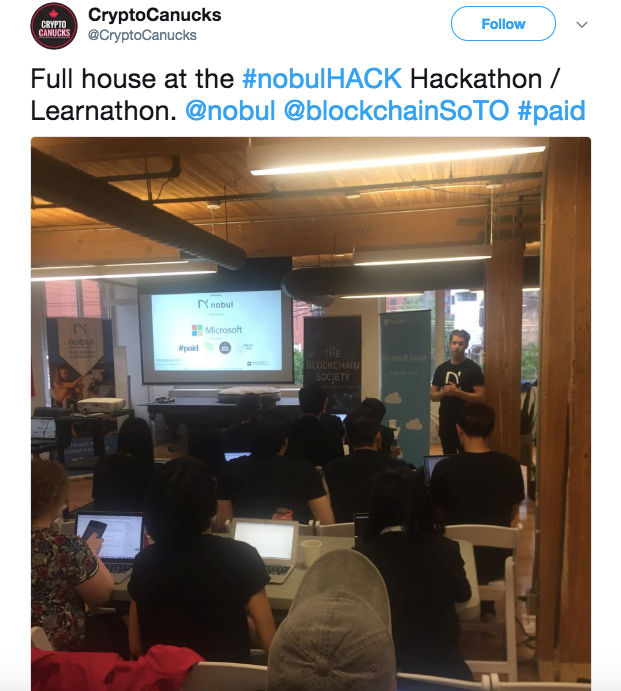 eams were to be assessed by the following criteria: 25% for Blockchain/Technical Development, 25% for Consumer Centric, 25% for Usefulness, and 25% for Innovation. First prize would earn $750, with 80,000 BTZ coins, and second prize would earn $250 along with 40,000 BTZ coins.
Fortunately, guests and participants were treated to representatives from Microsoft and Nobul during the Learnathon, who had some new and exciting applications to share with participants who could apply it to their competition.
From Microsoft's end, Azure Workbench was introduced to guests and participants, a blockchain service product that launched on May 8th in the developer conference known as Build. Mahdi Alirezaie, the technical blockchain lead for Microsoft Canada, delivered the workshop for Azure Workbench in the Learnathon, as well as supported the hackers during the Hackathon. Azure Workbench allows you to focus on the business logic of the actual application, taking away from the back end and allowing you to focus on your application. I got to speak to Microsoft representatives to learn a little bit more about this. Sarah Muma, a technical resource of Microsoft who helps run Microsoft For Startups gave the analogy that if you're an artist, you want to spend as much time painting, as opposed to constructing your canvas, and that is what Azure Workbench enables users to do in their application. Along with Sarah, I got to speak with Adarsha Datta, the startup leader of Microsoft Canada, who manages relationships in Toronto, Kitchener, and Waterloo, and helps manage Microsoft For Startups as well. To cap off the team, I spoke to the "software evangelist" Maysam Mokarian, who works with sales in Canadian and east-coast universities, and aims to integrate Microsoft cloud products into the academic area, with integration into given courses. When asked what brought them to the Nobul Hackathon, they said it was a great opportunity to showcase the product to the market, and it was a great opportunity to see how many people are working with blockchain and how it can be applied to Azure Workbench. During this event, Microsoft gave participants the chance to actually hack on Azure, with $100 worth of credits towards it, along with Azure passes that enabled participants to directly build solutions for free on the application. This was the first blockchain hackathon that Microsoft had been affiliated with in Canada, and the turnout proved to be a success. When asked what their hopes of their app and event would be, Adarsha stated "Microsoft's mission is to win the hearts and minds of developers across the world. Through Azure Workbench, we enable blockchain consortium network with just a few clicks for automatic ledger deployment, network construction and pre-built blockchain commands that greatly reduce blockchain infrastructure development time."
I then had the pleasure to speak with Nobul's very own, their Chief Technology Officer, Chris Mero. The Nobul team, in February, were proud to launch their mobile app that became available on app stores. Their vision was a consumer centric real estate marketplace, and they delivered just that.
Nobul educates you on the real estate process, leading you through all the steps of buying and selling, and includes valuable tools and functionalities that will assist you along the way. Also featured is real estate agent ratings, agent services provided, and even how you can save money in your pursuit of selling, which anyone would be intrigued to look into.
Also featured is real estate agent ratings, agent services provided, and even how you can save money in your pursuit of selling, which anyone would be intrigued to look into. The app enables you to connect with agents, and even come to an agreement. It is risk free, and focuses on real estate deals that need to be facilitated. If a deal is closed, a referral fee would be paid to Nobul, on closing day, at 0.2% of the cost. It is essentially, in the words of Chris, "pyjamas and slippers bidding on business". Most recently, the app introduced an autobid feature, which you can sign up for to ensure that you aren't glued to your phone or desktop during this process.
Nobul wants to educate consumers from beginning to end with marketing analytics, to make sure they make better decisions. In the app, you will be able to see the trends in the marketplace for the given area, and the team is continuing to layer and add additional services for consumers and agents to work with. Fortunately, the app comes free of charge, and is available on all smartphones. Currently, there is a contest going on, in which the first 100 users to buy or sell with an agent through Nobul will receive $1000. If a deal is closed by August 31st, you will be entered in a chance to win $100,000!
When asked about what he hopes to get out of the hackathon, Chris stated that he hopes to hear really good ideas, and get even better ideas for the marketplace.
He said that it was a great opportunity to engage with blockchain users, and the event is a great marketing and recruiting tool, and a chance to get Nobul out into the community and spread the brand. The intent is to look for the best blockchain developers, with several teams in attendance that worked in unison in hopes of wowing the judges.
Of the teams involved, I had the opportunity to get to know a few that were hard at work and well into their upcoming submissions. I first spoke to a team that named themselves 'NullPointer Exceptional', and they were certainly locked in to their task. Without occupying much of their time, I simply wanted to know how the hackathon was going for them. "Challenging--there's a lot tof things to be learned, and a lot of things we've learned," one team member said. "It's very stimulating in the sense that you get to collaborate with other smart people." I then made my way to a team comprised of members from Deloitte, going by the name 'Flow'. Flow is a multidisciplinary team that exemplified confidence from the get go. When asked what their hopes were for this competition, one team member told me "For blockchain to succeed, it needs to be simple to understand, and our team is focusing on user experience." This team was for the people. Last but not least, I made my way to speak to one more team, a group of high school students that happened to be the youngest team at the hackathon; The Blockchain Boys. I was curious to know what brought them to the competition, with each of them expressing their passion for blockchain, and each being regular attendees of conferences and meetups, along with interning for their respective startups. They told me that the hackathon gives them the opportunity to further develop their skills, and although they ran into some hiccups and road blocks along the way, they are confident, and "won't go down without a fight!"
After hours of collaborating towards their submissions, the results were in, and the judges were on hand to reveal the winners.
Judged based on blockchain deployment, consumer centric, value-business problem, and the originality and innovation of their ideas, the hopeful teams awaited the outcome of their hard work. Courtesy of Jessica Domingo, PR of Nobul, the results were as follows:
Coming in first place, was 'The Transplant Chain', winning $750, and 80,000 BTZ coins.
The runners up, were none other than the group I had the fortune of interviewing, 'Flow', who took home $250, and 40,000 BTZ coins among them. In third place, was 'Fitech', winning 30,000 BTZ coins.
A round of applause to each of the teams involved, and the speakers and sponsors on site who contributed to a successful and informative event. The future of blockchain is certainly bright.

Thank you to our sponsors!