The Blockchain Society NYC Deal Making Conference + HOF CAPITAL Dinner
On September 21st The Blockchain Society hosted a special invite only Deal Making conference for investors, regulators, and blockchain thought leaders at Davis & Gilbert, LLP in New York City. The evening prior, speakers and VIP guests from the conference were invited to an exclusive deal making dinner at our partner Hof Capital's Chelsea offices.
Dinner was catered by The Culinistas, and guests enjoyed their meal on the patio outside Hof Capital's modern loft-style workplace, sipping on Trombo Tequila cocktails and taking in an incredible panoramic view of the surrounding neighbourhood. Guests introduced themselves to the group and briefly explained what they would be speaking about at the Deal Making conference.
The next day at D&G's office downtown, Kevin Liu, Director at the BUMO Foundation, and Scott Howard, co-founder of ePIC Blockchain Technologies started the conference off with a fireside chat, in which they discussed the exciting ways BUMO is growing internationally, and how those growth strategies can be applied to other sectors of the blockchain community.
Founder & CEO of Celsius Network Alex Mashinksy then spoke to the crowd about how to evaluate ICOS's, citing decades of experience raising money for 7 different start-ups to explain the benefits of doing an ICO and how he recommends evaluating a worthwhile ICO.
Eric So, Managing Director and Co-Founder of Globalive Technology, shared a brief presentation about the history of telecommunication and the evolution of blockchain, and what Globalive's role throughout that evolution has been
Bruce Silcoff, CEO of Shyft International made a presentation to those collected about the current identity crisis. Bruce identified that over 1.5 billion people around the world have no form of recognizable identification. He explained how Shyft International is attempting to provide that vital service globally and in a de-centralized manner.
Following Bruce was a venture capital panel moderated by Ayesha Kiani, Managing Director at Republic Capital, during which she spoke with Hooman Mehranvar, an associate at OMERS Ventures, Lylan Masterman, General Partner at White Star Capital, and Fady Yacoub, Co-Founder and Managing Partner at HOF Capital.
Adam Helfgott, CEO of MadHive, Jarrod Dicker, CEO of Po.et and Frank Sinton, President and Founder at Beachfront Media sat down for a fireside chat about blockchain innovation occurring in the media, and how both spaces have begun to intersect in multiple exciting ways.
Following the media discussion was a panel addressing disruption in the financial services industry, moderated by Chris Eben, the managing partner at TWG. Chris was joined on the panel by Giuseppe Gori, CEO of Gorbyte Inc, Brent Xu, Protocol Business Architect at ConsenSys and Taotao He, Senior Investment Associate at Marto Capital.
After a brief lunch break Jeff Pulver, Vice Chairman of Alchemist, delivered a deeply philosophical keynote speech about relativity and time. Jeff used his extensive experience taking celestial photographs to draw interesting analogies between the expanding universe and the limitlessness of innovation within tech and finance, particularly as it pertains to blockchain.
Next a Blockchain AdTech panel took place, during which the audience had the chance to hear from Richard Eisert, partner at Davis & Gilbert LLP, Adam Helfgott, CEO of MadHive, Mike Adler, Senior Managing Partner at AC Lion and Manny Puentes, CEO and Founder of Rebel AI.
Chris Eben moderated another panel following Blockchain AdTech, this time about the Future of Capital Markets, during which he spoke with Jeff Pulver, Vice Chairman of Alchemist, Sloane Brakeville, Co-Founder and CEO of Fr8 Network and Ayesha Kiani, Managing Director at Republic Capital.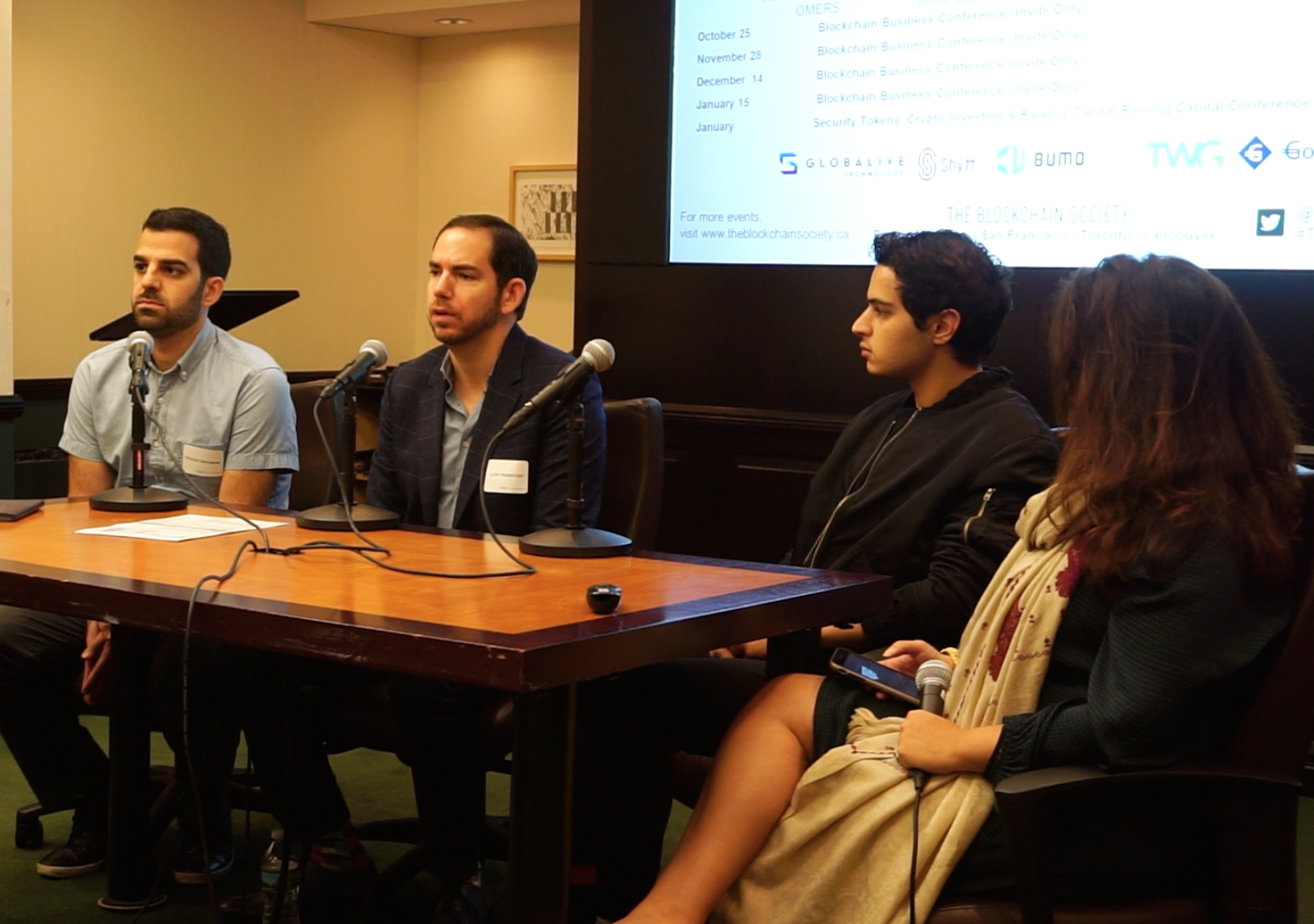 Giuseppe Gori, CEO of Gorbyte Inc delivered the closing keynote, describing the innovative work his company is doing to develop a blockchain crypto-network that is public, unpermissioned, and using a cooperative consensus mechanism which in practice allows for no-cost basic transactions anywhere in the world.
Both the deal making conference at D&G and the exclusive, invite only dinner at HOF Capital provided incredible opportunities for The Blockchain Society to assemble elite groups of blockchain thought leaders from all over the world and bring them together in two, equally engaging and informative events. Thank you to those who welcomed us in New York city – we look forward to returning in the new year for our Blockchain Society Security Tokens Conference on January 30th, 2019, and in February for our Hackathon.